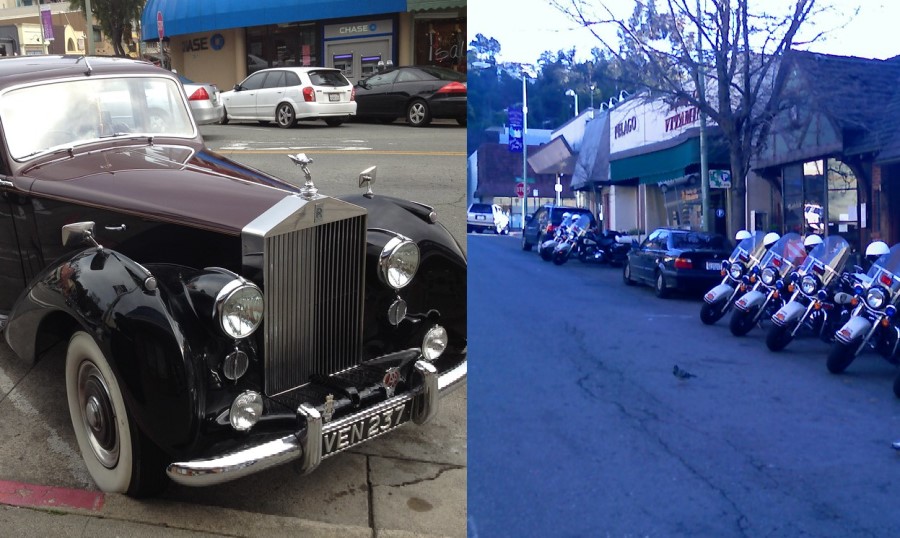 The Montclair District, Oakland
Montclair (or "The Montclair District") is a neighborhood in the city of Oakland, California known for having one of the most affluent communities in not only Oakland but also in all of California. It's said that over half of the people who live here make more than $150,000 a year and hold advanced degrees in their fields. The average price of a single family residence in this area comes in at about $1.5 million. Montclair is located along the western slope of the Oakland Hills from a valley formed by the Hayward Fault to the upper ridge of the hills.
The Montclair District ranks among the most desirable locations in Oakland. It has a variety of high-end restaurants, shops, and other entertainment venues. The local public school system is excellent and neighborhood crime is low.
This part of Oakland has been developing and growing quickly since 1874 when it was incorporated into the city after its separation from Alameda County. It didn't take long for this hilltop community to become a very wealthy neighborhood with big houses that belonged to affluent families. Today Montclair is still quite exclusive but over time it has become more diverse with people who live there having different ethnicities and races.
When people say "Montclair," they may refer to the wider Montclair District or the shopping area, "The Village," or any of the surrounding neighborhoods in the hills east of Highway 13. The neighborhood extending behind and around "The Village"–east and west of Highway 13 – is considered as "Montclair" as well.
In 1839, what is now known as Montclair and Dimond Canyon were part of the territory that was granted to Luis Maria Peralta. During 1841, Luis broke his land into what would become known as San Antonio de Padua and Rancho San Antonio and the portion that would later make up Montclair and Dimond Canyon was given to his son Antonio Maria Peralta during 1842.
The main thoroughfare through Montclair is Mountain Blvd.. Another major street is Park Blvd. which crosses over Highway 13 and intersects with Mountain Blvd.
Montclair Village is a clean and family oriented close-knit community. It is near amazing parks and destinations like Chabot Space & Science Center and world class bike routes and trails. Unique shops, coffee houses, and restaurants surround the area with 20+ options to choose from. Many businesses in our neighborhood have been here for generations, some of which are still run by families who enjoy. Many of these local, family-owned shops offer unique customer service to neighbors they have known for years and consider friends.
Landmarks in the Montclair Village Section of the Oakland Montclair District
Montclair Park
Montclair Park is a family-friendly Oakland city park in the Montclair District that is home to Montclair Recreation Center and is full of everything from flowers and tall grassy areas to tall coniferous trees and duck ponds. Children will love the playground area – which has a western theme and its own covered stagecoach where children can put on great shows! Inside the rec center, kids can play ping pong or do arts & crafts. There are four tennis courts for guests to take advantage of as well. The park features several picnic areas with tables and grills available for citizens' use.
Directions from Montclair Park to Farmstead Cheese and Wines: https://goo.gl/maps/XBUNXmCHKtVNnsJY8
This boutique wine and cheese store is located at 6218 LaSalle, across from the Montclair Parking Garage. They've got over 600 bottles of wine to pick from, not to mention 100 hand-crafted cheeses that are guaranteed to turn even the pickiest eater's head. If you're looking for something to snack on too, don't worry, they've got a delicious selection of olives, jams and chutneys, cocktail mixers and vinegars too! Founded in 2003, they have been named one the Best Cheese Shops in the Country by Gourmet.com
Directions from Farmstead Cheese and Wines to Italian Colors Restaurant
Farmstead Cheeses & Wines Oakland 6218 La Salle Ave, Oakland, CA 94611
Head southwest on La Salle Ave toward Mountain Blvd
Turn left onto Mountain Blvd
Turn left to stay on Mountain Blvd
Turn left onto Village Square
After 200 feet Turn left
Italian Colors 2220 Mountain Blvd #100, Oakland, CA 94611 will be on the left
Italian Colors is an amazing restaurant located at 2220 Mountain Blvd in Montclair Village. Italian Colors has been open for over 25 years and the quality of their Italian food and drinks is amazing. Eating here is like eating at a five-star restaurant for half the price. The owner often helps out with tables and drinks and the whole vibe is how classy in both decor and staff. The staff are all genuine gems who really seem to love having fun while serving others.
Directions from Italian Colors Restaurant to All Eyes On Me Optometry:
Italian Colors 2220 Mountain Blvd, Oakland, CA 94611
Take Village Square to Mountain Blvd
Turn left onto Mountain Blvd
Turn right onto Park Blvd
Turn left onto Leimert Blvd
Slight right onto Leimert Place
Continue onto Clemens Rd
Turn right onto Waterhouse Rd
Turn left to stay on Waterhouse Rd
Slight right onto Lyman Rd
Continue onto Fruitvale Ave
Pass by Bank of America Financial Center (on Fruitvale ave. to the right in 0.2 mi)
All Eyes On Me Optometry will be on the right, 3417 Fruitvale Ave
Montclair is one of our favorite neighborhoods. We love our patients from Montclair, and we love providing our favorite patients the best optometry services available. Thanks for being our customers!